Association Member Detail
Korea Exhibition Organizers Association (KEOA)
INFO
Address: 6F, Nara B/D, A, Teheran-ro 83-gil 32, Gangnam-gu, Seoul, 135-879, Korea
Tel: +82 2 567 5311
Fax: +82 2 2051 3319
E-mail: keoa_sjw@naver.com
Website: http://www.keoa.org
Contact Person: Ji-Won Song, Assist. Manager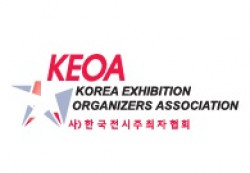 About the Association
* Mission & Major Role
- Promote Korea exhibitions as a major market place in the region
- Cooperate with relevant international organizations
- Educate and train exhibition specialists
- Communicate with the government and trade organizations
- Publicize Korea exhibition and organizers
- Exchange and share information of members
- Develop new policies and make a recommendation to the Government

* Event News in Korea
Korea Exhibition Industry EXPO!!, together with the 8th Korea International Exhibition Forum was held on 17-18 December 2015 in COEX, Korea. Korea Exhibition Expo will be the first complex exhibition cum forum held, to inform consumers of exhibition services about all aspects of the work of those involved in the exhibition businesses: fairgrounds, organizers, developers and suppliers of exhibition and show equipment and many others, especially potential exhibitors

* Visitor's Profile
A) Exhibition Professionals Key regional industry decision makers involved in the staging of events; Event Organizers & Promoters, Exhibition & Conference Organizers, Large Scale Advertising Companies, Public Relation Companies, Large Scale Corporate Companies, Hotel & Resort Managers, Wedding Organizers, Nightclubs/ Bars & Restaurants, Shopping Malls, Stadiums & Theaters, Tour Operators, Theme/ Leisure Park.
B) Potential Exhibitors Key decision makers, who want to study to join domestic and overseas exhibitions; Marketing department/ export department of potential exhibitors, General manager of related associations, subsidy provider of Government etc.

* Exhibitor's Profile
Profile for exhibitors include Exhibition and Trade Fair Organizers; Exhibition Venue Holders, Congress Organizers, Associations and Unions, Stands & Equipment, Exhibition Equipment, Design and Construction of Exhibition Stands, Exhibition Furniture, Décor Items and Materials, Movable Stands, Pavi l ions, Audio & Video Equipment , Equipment for Presentat ions, Telecommunication Equipment, Electric & Sound Equipment, Advertising Services, Business Gifts & P.O.S. Materials, Floral Design, Catering, Event promoters and other Event materials.
Back to list