News/News Detail
AFECA Awards: 2016 Winners Announced-Top Asian MICE Performers Crowned
2016/11/08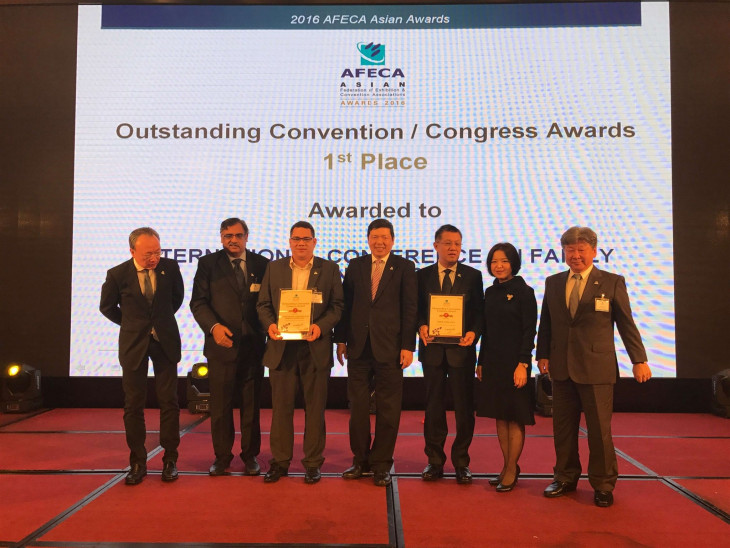 PRESS RELEASE

7 November 2016, Xiamen: Celebrating the 11th year of AFECA, the AFECA Awards was held under the bright lights in Xiamen during a reception ceremony, recognizing the best performers in Asia's MICE industry.

AFECA recognized important members and individuals for its contributions over the past year. The AFECA Board members and Advisory Council members, including President Walter Yeh, Honorary President Dilys Yong and President of Xiamen Convention & Exhibition Association (XMCEA) Zheng Zhi, were on hand to witness the ceremony and present the awards to their respective winners.

"This year marks the 2nd AFECA Awards, and after last year's success, we received even more interest and nominations this year. All nominees represent excellence and outstanding performance in the Asian MICE industry, and showcase the progress of how far the industry has advanced over the past years," stated Yeh.

Awards handed out include the Outstanding Trade Exhibition, Outstanding Consumer Exhibition, Outstanding Convention/Congress Award, Outstanding Service Award, the Young Professional Award as well as the Outstanding Venue Award, which is the ever first category.

In addition, starting this year, winners will be given the recognition of using the "AFECA Recognized" logos, which will be presented to the following three categories: AFECA Recognized Event, AFECA Recognized Venue and AFECA Recognized Service Provider. 'AFECA Recognized' will be the first Asian recognition. It endorses high quality, innovation and sustainability of the organizers who are endowed with this recognition.


2016 AFECA Awards Winner List:

Outstanding Trade Exhibition:

1st Place : COMPUTEX TAIPEI
(Taiwan External Trade Development Council, TAITRA)

2nd Place : China International Fair for Investment & Trade
(Ministry of Commerce, MOFCOM P.R.China)

3rd Place : The 16th China Xiamen International Stone Fair
(Xiamen Jinhongxin Exhibition Co., Ltd.)

Outstanding Consumer Exhibition:

1st Place : The Fourth Nanjing Principal Decoration Material Exhibition
(Association of Decorate Material Business in Nanjing)

2nd Place : Marvel Exhibition-2016
(Kuei Jung Company)

Outstanding Convention Award:

1st Place : INTERNATIONAL CONFERENCE ON FAMILY PLANNING 2016
(PT. Royalindo Expoduta)

2nd Place : TBEX ASIA 2015
(N.C.C. Management & Development Co., Ltd. & Queen Sirikit National Convention Center)

3rd Place : INTERNATIONAL IT-BPM SUMMIT
HAMLIN-ITURRALDE CORPORATION (TEAMASIA)


Outstanding Service Award:
Freight Forwarder
APT Showfreight (S) Pte Ltd

Stand Contractor
PT Wanindo Prima

Outstanding Venue Award:

1st Place :Kuala Lumpur Convention Centre

2nd Place : Taipei NANGANG Exhibition Center
(Taiwan External Trade Development Council, TAITRA)

3rd Place : Xiamen International Conference & Exhibition Center
(Xiamen Conference & Exhibition Group Inc.)

Young Professional Award:

1st Place : Mr. Ong Wee Min
(Sales for Marina Bay Sands Pte Ltd.)

2nd Place : Ms. Celia Chung
(Chan Chao International Co., Ltd.)

For more information, please visit: goo.gl/…

About AFECA
The Asian Federation of Exhibition and Convention Associations (AFECA) was established in 2005, with a mission to promote and enhance the MICE industry in Asia. AFECA has over 131 members, covering 17 nations/regions in Asia. AFECA is currently the leading MICE association in Asia, and with access to other global MICE associations, AFECA is the gateway for Asia to reach out to the rest of the world.
For more information, please visit afeca.asia/ or contact the AFECA Secretariat: MS. SUSANNA CHANG at the AFECA Taipei Liaison Office (afecaawards@afeca.net).

Read more news