News/News Detail
2019 Asian MICE Forum - Huge Reveal of Creative Plans for Destination Marketing
2019/08/23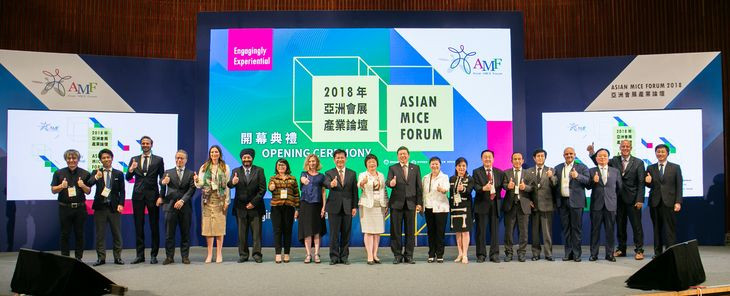 A major annual Asian MICE event, the 2019 Asian MICE Forum (AMF), will be making waves September 18 and 19 at the Taipei International Convention Center! This year's Forum will be themed Be entertained: Make an event into a game. The focus will bring a spirit of 'gamification' to event planning, to create new play experiences. AMF is commissioned by the Bureau of Foreign Trade to the Taiwan External Trade Development Council (TAITRA). This year, AMF is entering its 14th year. With exhibition development getting more and more active around the globe every day, this year's Forum has invited experts with rich backgrounds in international meeting and incentive travel to discuss innovative methods from recent years. They will also share real-world examples of how to attract MICE events to a location. It will be a can't-miss event for all domestic exhibition industry professionals.

The Korea International Exhibition & Convention Center (KINTEX) just won the UFI Marketing Award. In order to boost attendee participation at their PlayX4 game expo, KINTEX invited influencers to compete in games against attendees. They also used major giveaways from hot social media stars to create popularity for the activity. Suntec Singapore, which won the UFI Digital Innovation Award, will share their experiences applying augmented reality (AR) to convention navigation. Once guests use this technology, combined with digital positioning, they can see everything that's going on in activities on the convention floor, right on their screens. This saves time for those who have to go around the convention center in person and communicate with event organizers.

To help MICE companies incorporate innovative ideas into event planning and management, the 2019 AMF has invited the world's leading curators to participate in the Innovation in Event Planning session. During this session, Sandy Angus, the Chairman of Angus Montgomery, an exhibition company in the United Kingdom, with more than 50 years of valuable experience, will chat with Sophia Chong, Assistant Executive Director of HKTDC (Hong Kong), and Emilia Shih, Executive Director of the Exhibition Department of TAITRA. It is certain that these speakers' rich experience exchange will create even more sparks of innovation.

In recent years, MICE activities coupled with destination marketing has become a trend around the world. When organizing international MICE activities or sports events, government units often invest innovation and resources. They use cultural cleverness and unique tourism opportunities to promote destination marketing, which adds a multiplying effect to the exhibition activities. The Forum's session on destination marketing will reveal destination marketing secrets for Taipei, Taoyuan, Kaohsiung, Seoul, Bangkok and Sarawak. The session will also use major events as examples of how to drive attendees to explore the charm and vitality of your city!

The 2019 AMF will gather together international MICE elites. Firmly grounded in Taiwan, but aligned with international trends, this event will bring boundless new ideas for the industry. Register at amf.com.tw for more details.

Read more news