News/News Detail
INAUGURAL AFECA AEC+EXPO OPENS TO NEW MILESTONE IN ASIAN MICE INDUSTRY
2015/11/13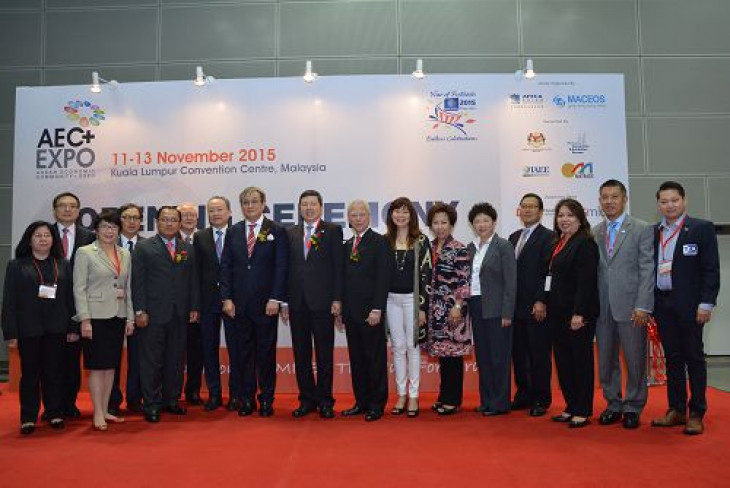 KUALA LUMPUR, MALAYSIA – The Asian Federation of Exhibition & Convention Associations (AFECA) and co-host Malaysian Association of Convention and Exhibition Organisers and Suppliers (MACEOS) officially opened its first AEC+ EXPO 2015 at the Kuala Lumpur Convention Centre, Malaysia. Among those in attendance include Mr. Wee Choo Keong, Chairman of Tourism Malaysia; Mr. Walter Yeh, President of AFECA; Dato' Vincent Lim, President of MACEOS. "

This AEC+ EXPO is the top platform for corporations to expand businesses to all of Asia and the rest of the world. Over 150 exhibitors participated in the inaugural event, with national pavilions from Singapore, Malaysia, Thailand, Indonesia, and Taiwan, as well as many professional buyers and visitors gathered in the heart of Malaysia. The establishment of the AEC (ASEAN Economic Community) will further strengthen ASEAN's economic development as the leading MICE association in the region," states Mr. Yeh. The theme "Innovations In MICE - The Way Forward" will provide the best business opportunities to network and share many new innovative and creative breakthrough ideas and technology to spur the growth of manufacturing sector in general, and MICE Industry in particular.

The AFECA Forum joins hundreds of top professionals from across Asia to address two feature topics; Sustainability and Integration of the ASEAN Market. The audience will hear from the guest of honor, Ministry of International Trade and Industry (MITI), Secretary General, Ms. Rebecca Fatima Sta. Maria. Speakers at the Forum include Vice President of International Association of Exhibitions and Events (IAEE), Ms. Cathy Breden; International Congress and Convention Association (ICCA) Asia-Pacific Regional Director Mr. Noor Ahmad Hamid; as well as representatives from Singapore, Malaysia, the Philippines, Thailand, Taiwan, Japan and China.

The AFECA Awards celebrate and acknowledge excellence in the exhibition and convention industry and recognize the contributions of AFECA members in the global marketplace. AFECA Awards include citation in the area of trade exhibition, consumer exhibition, convention, event, service, young professional and appreciation award, receiving enthusiastic responses from Malaysia, Taiwan, Singapore, Thailand, Philippines, China and Hong Kong.Among these awards, Young Professional award aims to encourage the outstanding young generation of Asian MICE Industry and cultivate future talents.

Seventeen (17) university student teams from China, Hong Kong, Malaysia, Singapore, Taiwan and Thailand will gather in Kuala Lumpur, Malaysia for the AFECA Asia MICE Youth Challenge. Wherein they will pitch in their Novel event and why their respective city/country is the ideal international platform for Meetings, Incentive Travel, Conferences and Exhibition (MICE).

In addition to the opening of AEC+ EXPO, AFECA President, Mr. Yeh, marks another milestone with the signing of a Memorandum of Understanding (MOU) with the United States-based International Association of Exhibitions and Events (IAEE) represented by Vice President, Ms. Cathy Breden. Also, separate MOUs will be signed by associations from AFECA and IAEE members.

"AFECA and IAEE have had many previous cooperation instances, and this signing will further strengthen the ties between both associations. With the formalizing of this bond within the exhibition market, we are very excited about the prospects that it can bring to us."

To cap off the event, top officials from key MICE corporations in Asia will gather at the AFECA Board and Advisory Council meeting. The meeting will focus on the latest MICE trends in the Asia Pacific region, as well as this year's event highlights, AFECA Awards, AFECA Forum and AFECA Asia MICE Youth Challenge.

For more information on AEC+ EXPO, AFECA Awards, AFECA Forum, AFECA Asia MICE Youth Challenge, please visit afeca-events.org/ or email afeca@taitra.org.tw.
Read more news