News/News Detail
TAITRA announces modified schedule on events due to global COVID-19 outbreak
2020/02/18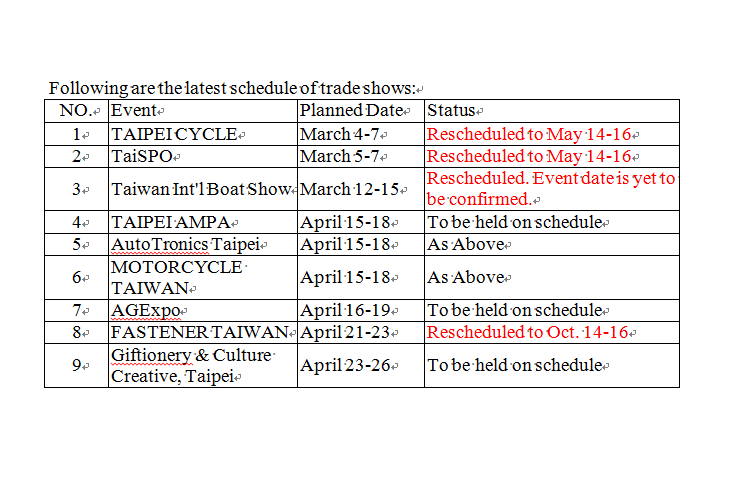 TAITRA announces modified schedule on events due to global COVID-19 outbreak

TAITRA, the benchmark for sourcing quality and innovation in Taiwan, has worked closely with industries and government to implement any necessary contingency plans to ensure the health and safety of visitors and exhibitors to all events.

Following are the latest schedule of trade shows:
NO. Event Planned Date Status
1 TAIPEI CYCLE March 4-7 Rescheduled to May 14-16
2 TaiSPO March 5-7 Rescheduled to May 14-16
3 Taiwan Int'l Boat Show March 12-15 Rescheduled. Event date is yet to be confirmed.
4 TAIPEI AMPA April 15-18 To be held on schedule
5 AutoTronics Taipei April 15-18 As Above
6 MOTORCYCLE TAIWAN April 15-18 As Above
7 AGExpo April 16-19 To be held on schedule
8 FASTENER TAIWAN April 21-23 Rescheduled to Oct. 14-16
9 Giftionery & Culture Creative, Taipei April 23-26 To be held on schedule

For those who not able to travel to Taiwan in March or April but seeking to find potential suppliers, TAITRA has a global network of 63 branch offices dedicated to helping you connect with quality suppliers and products. Specifically, our branch offices provide "Free & Customized Sourcing Services," which can be set up to fit your sourcing requirements with 1 on 1 meetings via the Skype platform, before you can travel to Taiwan at a later time.

Taiwan has been effective in the protection of the public through the stringent measures that have been implemented, and TAITRA will continue to closely monitor all situations and keep international visitors to Taiwan well-informed. Our overseas branch offices will help with any enquiries.
For info on overseas branch offices: officeportal.taiwantrade.com/flash/big/…

***As of today, Tuesday Feb 18, the COVID-19 outbreak has resulted in a total of 73,380 confirmed cases reported worldwide. As of writing, a total of 22 confirmed cases were found in Taiwan, with 1 of the confirmed cases deceased, 2 cases fully recovered and released from hospital, and the remaining in a stable condition and on the way to a full recovery. The risk of infection to international travelers within Taiwan is considered low to minimal.

**The latest reports state that the number of total confirmed cases in China, including Hong Kong (58) and Macau (10), is 72,555, followed by a cruise ship currently in international conveyance (454), Singapore (77), Japan (66), Thailand (35), Republic of Korea (29), Malaysia (22), Taiwan (22), Germany (16), Vietnam (16), Australia (15), United States of American (15), France (12), UK (9), UAE (9), and Canada (8).
Read more news