News/News Detail
Asia's Top Youth Converge to vie Ultimate Honor at the 6th AFECA Asia MICE Youth Challenge 2021
2021/10/20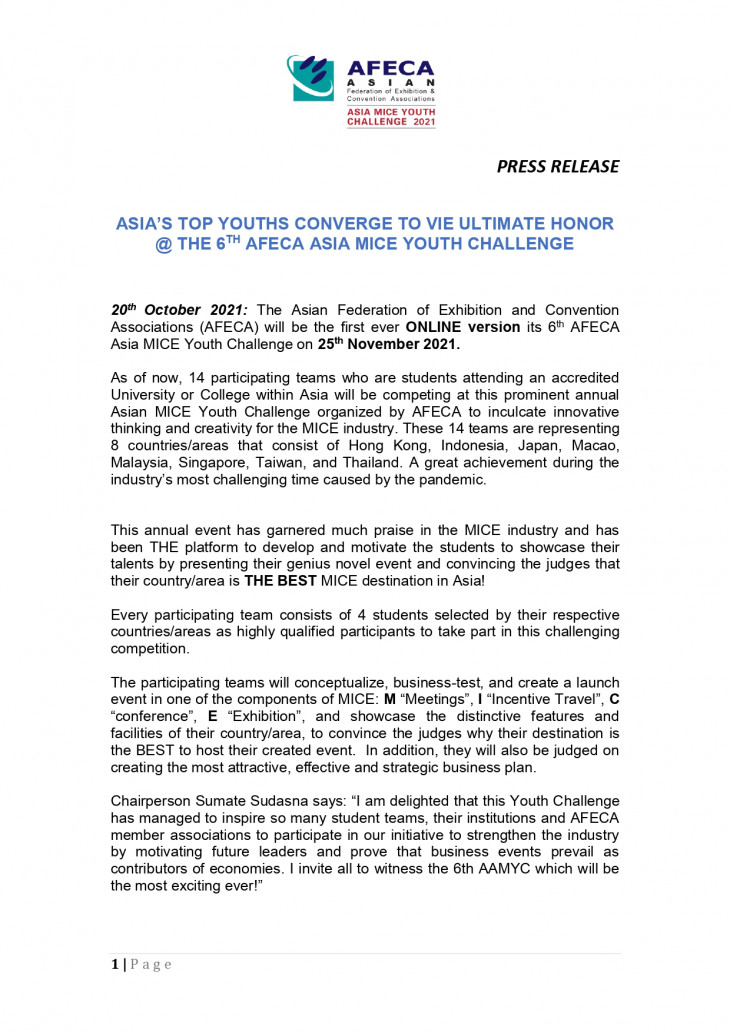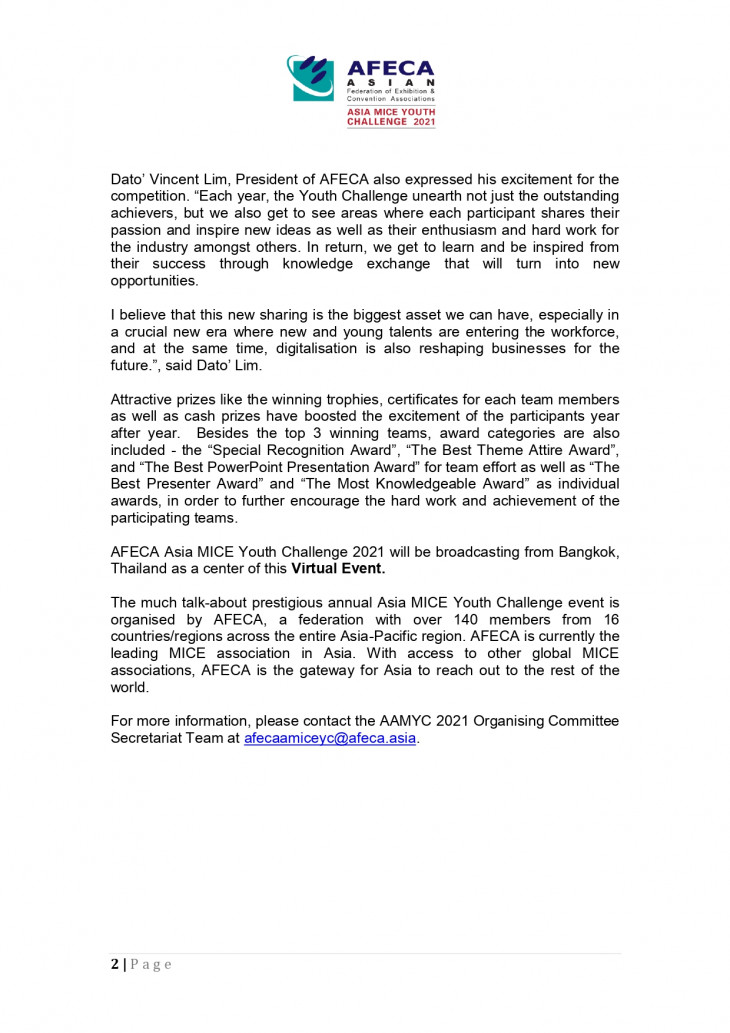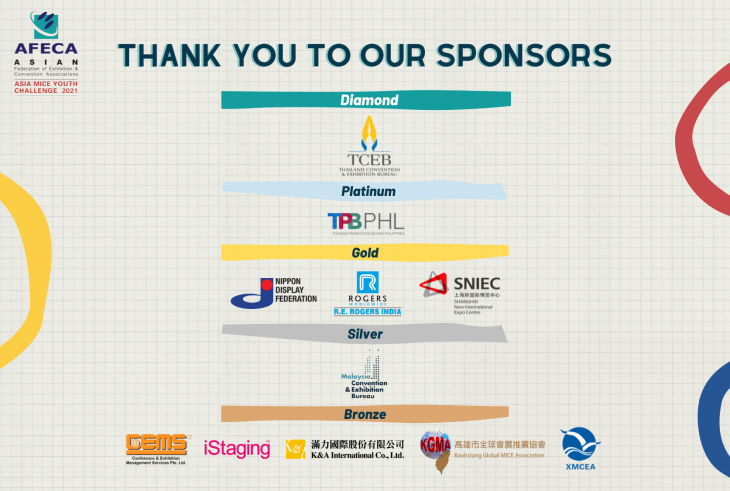 PRESS RELEASE

ASIA'S TOP YOUTHS CONVERGE TO VIE ULTIMATE HONOR @ THE 6TH AFECA ASIA MICE YOUTH CHALLENGE

20th October 2021: The Asian Federation of Exhibition and Convention Associations (AFECA) will be the first ever ONLINE version its 6th AFECA Asia MICE Youth Challenge on 25th November 2021.

As of now, 14 participating teams who are students attending an accredited University or College within Asia will be competing at this prominent annual Asian MICE Youth Challenge organized by AFECA to inculcate innovative thinking and creativity for the MICE industry. These 14 teams are representing 8 countries/areas that consist of Hong Kong, Indonesia, Japan, Macao, Malaysia, Singapore, Taiwan, and Thailand. A great achievement during the industry's most challenging time caused by the pandemic.

This annual event has garnered much praise in the MICE industry and has been THE platform to develop and motivate the students to showcase their talents by presenting their genius novel event and convincing the judges that their country/area is THE BEST MICE destination in Asia!

Every participating team consists of 4 students selected by their respective countries/areas as highly qualified participants to take part in this challenging competition.
The participating teams will conceptualize, business-test, and create a launch event in one of the components of MICE: M "Meetings", I "Incentive Travel", C "conference", E "Exhibition", and showcase the distinctive features and facilities of their country/area, to convince the judges why their destination is the BEST to host their created event. In addition, they will also be judged on creating the most attractive, effective and strategic business plan.

Chairperson Sumate Sudasna says: "I am delighted that this Youth Challenge has managed to inspire so many student teams, their institutions and AFECA member associations to participate in our initiative to strengthen the industry by motivating future leaders and prove that business events prevail as contributors of economies. I invite all to witness the 6th AAMYC which will be the most exciting ever!"

Dato' Vincent Lim, President of AFECA also expressed his excitement for the competition. "Each year, the Youth Challenge unearth not just the outstanding achievers, but we also get to see areas where each participant shares their passion and inspire new ideas as well as their enthusiasm and hard work for the industry amongst others. In return, we get to learn and be inspired from their success through knowledge exchange that will turn into new opportunities.

I believe that this new sharing is the biggest asset we can have, especially in a crucial new era where new and young talents are entering the workforce, and at the same time, digitalisation is also reshaping businesses for the future.", said Dato' Lim.

Attractive prizes like the winning trophies, certificates for each team members as well as cash prizes have boosted the excitement of the participants year after year. Besides the top 3 winning teams, award categories are also included - the "Special Recognition Award", "The Best Theme Attire Award", and "The Best PowerPoint Presentation Award" for team effort as well as "The Best Presenter Award" and "The Most Knowledgeable Award" as individual awards, in order to further encourage the hard work and achievement of the participating teams.

AFECA Asia MICE Youth Challenge 2021 will be broadcasting from Bangkok, Thailand as a center of this Virtual Event.

The much talk-about prestigious annual Asia MICE Youth Challenge event is organised by AFECA, a federation with over 140 members from 16 countries/regions across the entire Asia-Pacific region. AFECA is currently the leading MICE association in Asia. With access to other global MICE associations, AFECA is the gateway for Asia to reach out to the rest of the world.

For more information, please contact the AAMYC 2021 Organising Committee Secretariat Team at afecaamiceyc@afeca.asia .

Read more news