News/News Detail
AFECA Asia MICE Youth Challenge 2022, 24th November 2022
2022/07/15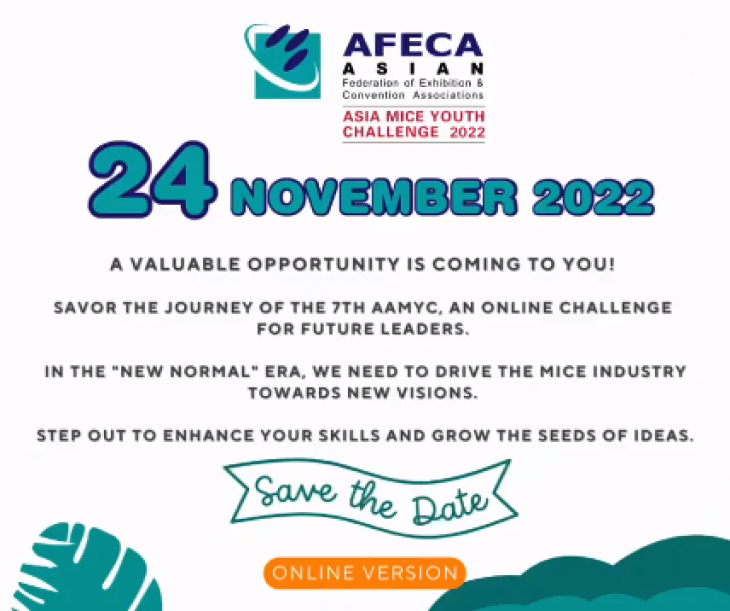 AFECA is pleased to inform you that the 7th edition of the AFECA Asia MICE Youth Challenge 2022 is confirmed, and we are very excited to announce that it will be happening on Thursday, 24th November 2022. Similar to last year, this year's Youth Challenge will be organised in an online format, with Bangkok as the coordinating headquarter, working closely with AFECA Secretariat office and supporting associations and academic institutions participating in the event.

AFECA Asia MICE Youth Challenge has come a long way since its inception in 2015. The 2021 Youth Challenge that took place virtually had received positive and proactive responses across Asia. A total of 13 teams from 8 AFECA member countries / areas were at the exciting competition. All the participants had expressed that the competition was a very fulfilling and rewarding experience. It was an excellent and unique opportunity for the participants to connect with many peers from other participating countries / areas to inspire ideas and share their passion of the industry.

As such, we are very excited to organise the 7th AFECA Asia MICE Youth Challenge which will be opened to all undergraduate students attending an accredited university or college within Asia. It is a platform for the future Asian MICE talents to outwit other participants by showcasing their genius novel event and convince the judges why their country/area is THE BEST MICE destination in Asia! This will be an opportunity for all to enhance their skills in the "new normal" ways to which the industry had adapted for business continuation and is expected to persist for many years.

We are expecting more schools/countries participating this year as we have already received overwhelming interest from various countries / areas, especially those who had participated in our previous events with fulfilling experience. Organise your teams today and take this golden opportunity to connect with the Asian MICE industry! Only registrations made through the respective AFECA Association Member country / area will be accepted.

Please find the AFECA Asia MICE Youth Challenge 2022 Information Kit, which consists of the Information Sheet and the Registration Forms in the following Google Drive for your reference: "drive.google.com/drive/folders/…". We are pleased to inform you that there will be a total of 14 Awards to be given out this year, giving more opportunities for participants to excel and showcase their talents. If you have any queries, please do not hesitate to contact the AFECA Asia MICE Youth Challenge 2022 Organising Committee Secretariat at "afecaamiceyc@afeca.asia".

There is also a series of Sponsorship packages available, and we hope that you will take advantage of this unique opportunity to participate as a sponsor to support this invaluable cause to develop our young talents of the industry in Asian region. Please do not hesitate to contact the Organising Committee for more details if you are interested in the sponsorship packages, by emailing to "afecaamiceyc@afeca.asia".
Read more news