News/News Detail
TAITRA Introduces New Exhibiting Areas and 3 Major MEGA Shows that Focus on the latest S.T.A.R. Trends
2022/12/30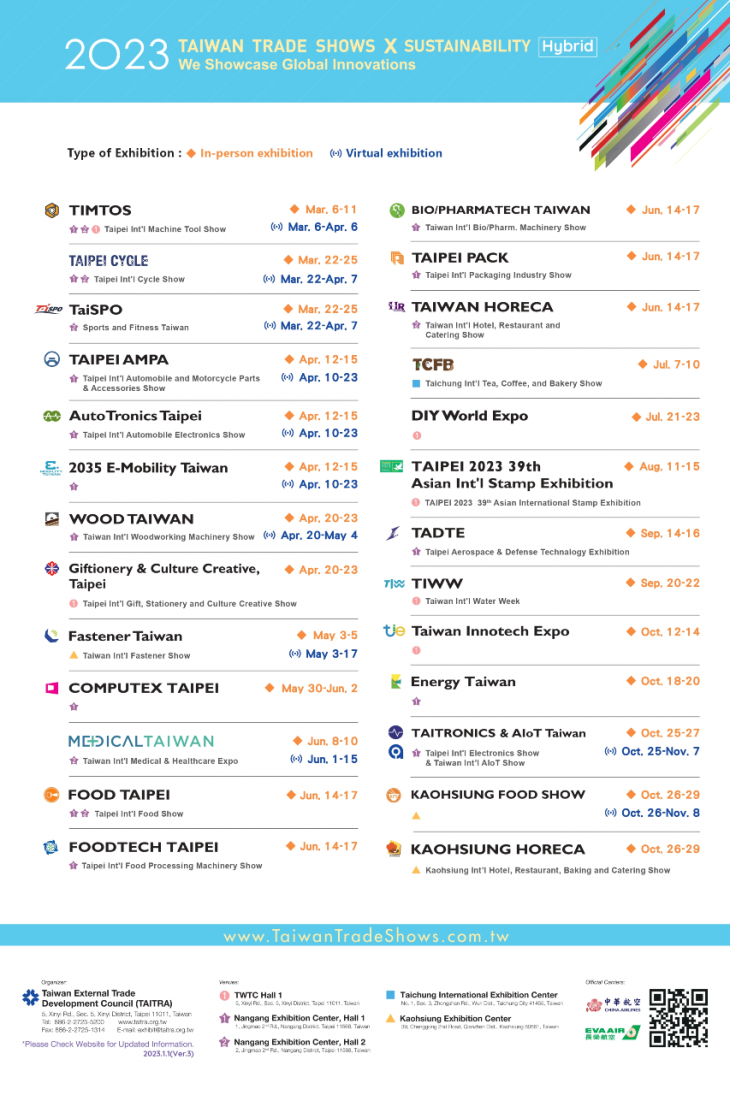 TAITRA will launch 26 international exhibitions in 2023, focusing on global industry trends and centering on the four core concepts STAR - Sustainability, Technology, Audacity, and Reliance. Each exhibition will come with new exhibiting categories with themes like digital health, net-zero sustainability, low earth orbit (LEO) satellite and metaverse. TAITRA will also organize three Mega Shows that bring together companies from the entire ecosystem. Trade shows held by TAITRA have always been, and will continue to be, a platform of opportunities for domestic players to expand overseas markets after the pandemic and for international buyers to seek collaboration and stay ahead of the curve.

TAITRA is one of the most important exhibition organizers in Taiwan. It has launched 24 hybrid exhibitions in 2022, and as border measures ease, it will hold 26 more next year, featuring the latest STAR trends - Sustainability, Technology, Audacity, and Reliance. The exhibitions will help industries to realize their sustainable goals, incorporate cutting-edge technology, foster innovation, and at the same time, promote business collaboration. The 2023 exhibitions will open up new opportunities in the post pandemic era and equip companies in Taiwan with the right tools to overcome global challenges and create new business opportunities.

The 26 international exhibitions in 2023 will continue to be exhibited in a hybrid format. Keeping abreast of the latest trends, the exhibitions will focus on the four STAR trends and set up new exhibiting areas featuring some of the most promising fields, such as digital health, net-zero sustainability, LEO satellite and metaverse, all of which will lay a sound foundation for future exhibitions. For example, TIMTOS will set up a Future Manufacturing area; Medical Taiwan will have an area dedicated to digital health; Energy Taiwan will add two exhibitions: Net-Zero Taiwan and Emerging Power Taiwan, and TAITRONICS will introduce a section for Metaverse and Next-Gen Communication.

In addition, the most highlighted Mega Shows will gather exhibitors to showcase the industry ecosystem & supply chain. In March, TAIPEI CYCLE and TaiSPO will be held. In April, the shows are TAIPEI AMPA, AUTOTRONICS TAIPEI, and E-mobility Taiwan. In June, there will be the FOOD TAIPEI MEGA SHOWS. The three Mega Shows will strengthen the vertical and horizontal integration of the supply chain.

- Flagship Bicycle and Fitness Exhibition Presents the Finest and Establishes Industry Standard
The pandemic raises awareness around the world of how important a healthy and sustainable lifestyle can be. This leads to the increasing demand of bicycles and fitness products that promotes a healthy, fun, and green lifestyle. The shift in lifestyle also accelerates the development of electrical products and connectivity technologies, giving rise to more digital solutions and new ecosystems. As the research center and manufacturing stronghold of high-end bicycle and fitness equipment, Taiwan plays a key role in the global supply chain, so TAITRA plans to put together a 2-in-1 exhibition in March, holding TAIPEI CYCLE, the world's second largest bike show, and TaiSPO, the world's most iconic trade show for fitness sector, at the same time. The two trade shows will feature three themes: Sustainability, Digitalization, and Lifestyle. Moreover, TAIPEI CYCLE will set up a Cargo Bike & Urban Mobility Pavilion and TaiSPO a Sports Tech section. The two exhibitions are in line with global trends and will showcase Taiwan's technological strength of establishing standardized specifications for the industry. The trade shows will also include many highlights, such as Outdoor Taipei, a section for outdoor recreation, and Bikes & Sports Fun, a brand-new podcast for fellow cyclists. The entire Mega Show will awaken the inner cyclist in everyone and draw buyers around the world with its innovative products, immersive experience, and fruitful meetings.

- Automobile and Motorcycle Mega Show Joined by the Entire Gas and Electric Vehicle Ecosystem
As the UN has approved bans on fossil fuel-powered vehicles starting from 2035, the automobile and motorcycle industry will surely undergo a fundamental transformation in the near future. In this case, Taiwan, with its complete supply chains for automotive and motorcycle sectors and cutting edges in ICT technology, becomes a key player in the field of automotive electronics, EV, self-driving vehicles, and e-mobility. To accelerate the transition from gas-powered cars to electric ones, TAITRA will hold an automotive and motorcycle Mega Show in April that features TAIPEI AMPA, AUTOTRONICS TAIPEI, and 2035 E-Mobility Taiwan, of which TAIPEI AMPA and AUTOTRONICS TAIPEI are the fourth largest exhibition in the world and second largest in Asia and 2035 E-Mobility Taiwan is the largest professional EV and self-driving car exhibition in Taiwan. The three exhibitions will be held at the same time, at the same place, exhibiting gas-powered vehicles, EVs, automobile components and parts, and e-mobility. It will be a great event and an unmissable opportunity for the automobile and motorcycle industry leaders who seek to expand into global markets.

- Food Mega Show Gathers Entire Supply Chain to Create Food Safety & Sustainability
Climate change and extreme weather have caused a significant drop in agricultural harvests. The pandemic of Covid-19 and Russia-Ukraine war also have gravely hit global food supply and reserves. To tackle the food security crisis, it is essential to develop future food and food technology that ensure food diversity and safety. For this, TAITRA will hold FOOD TAIPEI MEGA SHOWS in June, with exhibitions like FOOD TAIPEI, FOODTECH Taipei, BIO/PHARMATECH TAIWAN, TAIPEI PACK, and TAIWAN HORECA. In addition, being the most iconic food exhibition in Taiwan, FOOD TAIPEI is expected to set up 25 pavilions for different countries to showcase their most exquisite foods and agricultural products, acting as a platform for global businesses to enter Asian markets. In response to global trends, the 2023 FOOD TAIPEI MEGA SHOWS will be held on the theme - New outlook for Future Food and Safety & Sustainability for food industry. The mega show will come with eye-catching displays and exciting events, infused with two major elements- future food and food tech. The show looks into concepts such as healthiness, sustainability, and zero additives and showcases plant-based food and beverages, automation equipment, low-carbon and energy-saving machinery with high efficiency, and smart innovative solutions. It is the best platform for leaders in the food industry to look for business opportunities and strategic partners.

The 26 international exhibitions organized by TAITRA in 2023 will highlight the world leading trade shows: machine tool exhibition TIMTOS, bicycle exhibition TAIPEI CYCLE, automobile and motorcycle exhibition, TAIPEI AMPA & AUTOTRONICS TAIPEI, innovative technology & startup exhibition COMPUTEX TAIPEI, and food exhibition FOOD TAIPEI Mega Shows. TAITRA will also hold several niche exhibitions, including woodworking machinery exhibition Wood Taiwan, green energy exhibition Energy Taiwan, Aerospace & Defense Technology exhibition TADTE, and smart water solutions exhibition TIWW. The 26 exhibitions will all center on the four STAR trends with brand new exhibiting areas. With highlights in every coming trade show, the exhibitions will become the perfect platform for exhibitors at home and abroad to seize business opportunities, expand overseas markets, keep abreast of the latest trends and look for strategic partners. For more information on events schedule, please visit "taiwantradeshows.com.tw".
Read more news